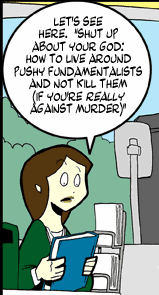 I love this comic from Something Positive:
Sometimes I feel like I should write a book like that. After living in Utah nearly my whole life, I feel like I have a whole toolbox full of Anti-Religion Skillz. The only problem is that I'm constantly tempted to superstition myself, so any god talk is risky for me.
Want to know the BEST way to get the fundamentalists to stop bugging you about their religion?
Try to convert them to Paganism. :)