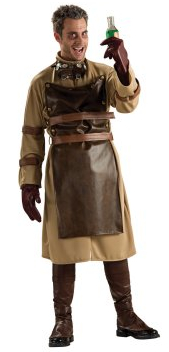 While looking at the costume sites online, I found this cool Mad Scientist Costume. You can see it in more detail here:
When I saw this costume, I realized that it would be a perfect and easy steampunk costume. It comes with the brown robe, the apron, gloves and goggles. All you would need would be a top hat and some good knee-high boots and you'd be DONE! EASY!
From now on when people don't know what steampunk is and still want to follow along with the theme for the Halloween party, I'm forwarding them a link to this costume.
Check out the closeup of the goggles. It's almost worth the forty bucks just for those cool goggles: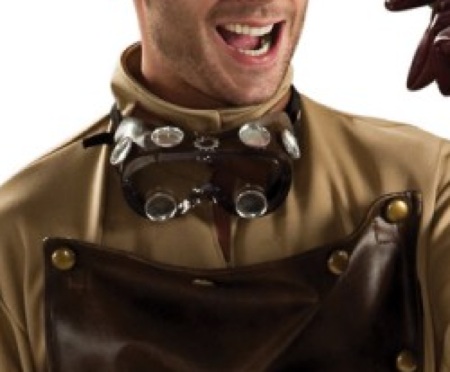 For women it's a little more difficult to find anything really good. I didn't want to have a costume that was too revealing, so I used a prom dress and the corset and top from this Tavern Wench costume. If you want to go the sexy route, there are a bunch of vampire and pirate costumes that could be repurposed for Steampunk.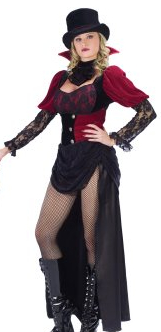 This pirate costume would work as a Steampunk outfit if it were coupled with leggings, combat boots and a good brass gun of some sort. Even that hat would work as long as you wear some cool goggles around your neck.
Also, the intersection of vampire costumes and steampunk are strangely similar. This vampire costume is perfect for steampunk, just lose the choker and collar. It comes with the top hat, so all you need to do is add some steampunk gear and you have an easy costume.
I've been planning my costume for months, so I'm feeling a little surprised at how easy it can be to throw together a Steampunk costume. Tomorrow, I'll talk about Steampunk Gear.