Every year, I lose the judging for Best Potluck at the Halloween party to Stacey and Dan. So all year long, I've been collecting cool ideas for the food at the Halloween party this year. Starting with this: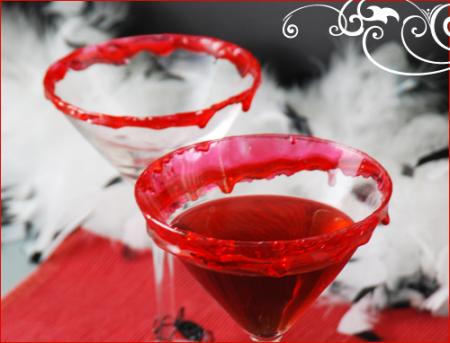 The "blood rim" is made from the same kind of mixture as you'd use to make hard candy. It's actually pretty easy, but you will need a candy thermometer (which you can find at most grocery stores).
Ingredients: 1 c. Sugar 1/2 c. Karo Syrup 1/2 c. Water Red Food Coloring Cinnamon (optional)
Directions: Combine sugar, syrup and water. Cook without stirring to hard crack stage – which is 300 degrees F. Add food coloring. (Optional: Cinnamon may be added for flavor.)
Turn off heat. While the mixture is still hot, dunk the top of the cocktail glass into the mixture to create the red rim. If you need to do several glasses, keep the mixture hot so it lasts longer (instead of turning heat off, just reduce slightly).You can go anywhere from just along the very tip of the rim to part way down the glass – whichever you prefer. Flip the glass right side up to cool. The thick consistency of the mixture will cause "drips" as it hardens on the glass!
My question is, if I use the plastic martini glasses, will they melt?