For the last two years, I've made Halloween cupcakes for the party. I've gotten lots of votes for them, but I don't end up winning. This book, Hello, Cupcake! has lots of ideas for cool cupcakes to bring to the party, but I don't think I'm going that route this year.
Tofu and Cupcakes tried the werewolf recipe from this book last year:
The werewolf got rave reviews…but I can tell you that the ones from the book look 100% better than mine! I should have gone with a stiffer icing (like Swiss meringue buttercream), I used Hershey's "Perfectly Dark" chocolate buttercream. The book detailed a method of the "fur technique" using a regular ziplock bag as a pastry bag. They even used two-toned frosting on theirs.
Her cupcakes look pretty good: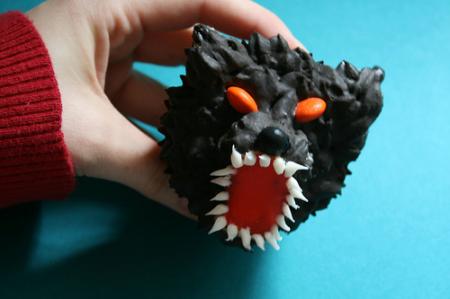 Considering how steep the competition is every year for the potluck award, maybe I should put a little more effort into my costume instead.