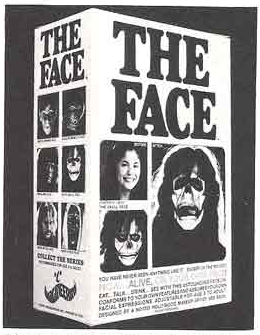 These makeup kits from the company called Imagineering, were really popular when I was a kid. They were first released in 1979, but they were in stores for a LONG time. I remember something very similar just last Halloween, actually. It's surprising to remember that at one time, these things were NEW. They were makeup kits that came with a thin plastic face that glued on and then you put makeup on it and your real face to blend it in.
When it comes to a Halloween party, it's best to go rather simply with the makeup and special effects. Eating food and drinking drinks can make the best makeup jobs looks silly. Whenever I choose a costume, I always make sure that I don't have too much on my face. I want to be able to see, talk and eat.
You'd think that it would limit my costume choices, but it hasn't yet.
Photo via: Plaid Stallions : Rambling and Reflections on 70's pop culture: Imagineering Introduces the Face