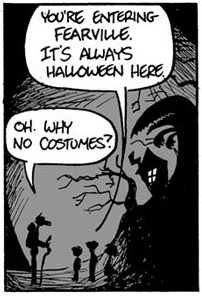 I've been reading Edmund Finney's Quest to Find the Meaning of Life for a while now. When the comic first started, however, Edmund found himself in a place called Fearville, where every day is Halloween.
The thought of Halloween every day is so tiring to me. I do so much for Halloween that celebrating it every day would be impossible. I would have to tone things down and do a little costuming each day. It would be exhausting and I would soon be VERY sick of it. It reminds me of a quote from Shakespeare.
If all the year were playing holidays; To sport would be as tedious as to work.
– William Shakespeare (1564 – 1616), 'The First Part of King Henry the IV'
I think I'm happy to live in a world where Halloween only comes one day a year. It would be nice if I could somehow find a society where Christmas is only one day a year instead of THREE months.