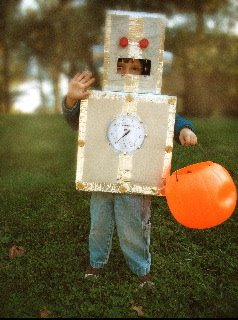 I can't believe how much I love this Recyclobot Costume from Mother Rising.
He took his Recyclobot for a spin at a Halloween party at our local community center and he made quite a scene. Children circled around him trying to get a closer look, and parents were taking photos. I could hear him inside saying, "I'm not a real robot…I'm just pretending".
Not pictured, she also had dryer tubing for his arms. It was even better in real life because she used some LEDs under the bottle cap eyes to make them glow.
The tiny LED lights can be found in the wedding section at Michaels and are often used to illuminate balloons.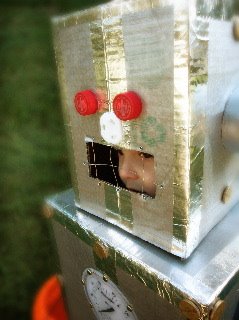 If you can't find them at Michael's, then you can buy them here for 18 bucks a bag.
They have three settings: constant on, slow blink and fast blink. They last for approximately 8 hours on a button battery, so that's plenty of time to last for a Halloween party.
I had never heard of balloon lights before I read this entry, so I'm excited about all the things you could do with them. High tech costuming just got a WHOLE lot easier! Imagine being able to make yourself a positronic brain just like Data in Star Trek.
When I first looked at this costume, it just looked like a normal kid's robot costume, but when I heard about those balloon lights, my whole life shifted just a little.