I'm still unpacking boxes and I found these Michael Jackson buttons in the bottom of one.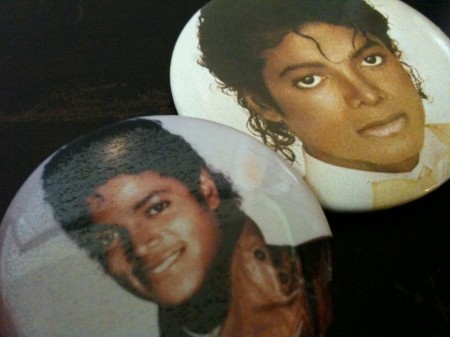 I remember watching Solid Gold one Saturday night and they showed the video for Billie Jean by Michael Jackson. The next Monday, I told all my friends in Mixed Choir that I was in love with Michael Jackson. They all rolled their eyes and two weeks later, Miss Andy brought in Billie Jean on 45 with the lyrics for all of us to sing along. Two months later, EVERYONE was in love with Michael Jackson and I got to the be the one who liked him first.
I wore these pins on my clothes EVERY day for the entire year of 1984.
By the time I got to high school, Michael Jackson wasn't cool anymore and I had decided that I was New Wave, so these pins were relegated to a box somewhere until they were unearthed last week.
I know this sounds horrible, but I kind of wish he had died before we found out about his "issues." I wish I could remember him like the media remembers him now and forget about all the allegations and the weirdness. I wish he had recorded "Man in the Mirror" and then died tragically in a car accident or plane wreck. Then I could fondly remember when I loved Michael Jackson.