When I found the Barbie Country Camper at Thrift Town, I also found this Barbie Country Living Home. It is truly a genius design.
It opens up to reveal a three room house, all in a portable case.
The back is made to look like the outside of the home.
Barbie looks right at home in the colorful house.
If eBay is to be believed, this home came with furniture: a white couch, a white chair, a white coffee table, an orange kitchen table, two orange kitchen chairs and a green bed.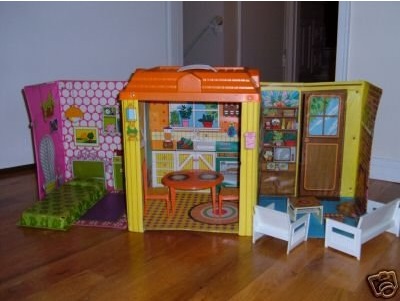 The home I found was broken and couldn't be carried by its handle, but I think I've fixed it with some very powerful Gorilla Glue. It should provide years of play for my nieces and any other little girls who visit my house.
You can see the rest of the photos here: