Six years ago, I talked about KCGL and how important it was to me. You can read it here:
Nothing that we could do could stop KCGL from changing their format. It wouldn't have been that big of a difference except that there were no other alternative or new wave stations on the radio at that time. Suddenly, we went from 24 hours a day down to one or two hours a week on public radio. After a couple of months, I was desperate for new music.
What I didn't tell you was about this poster.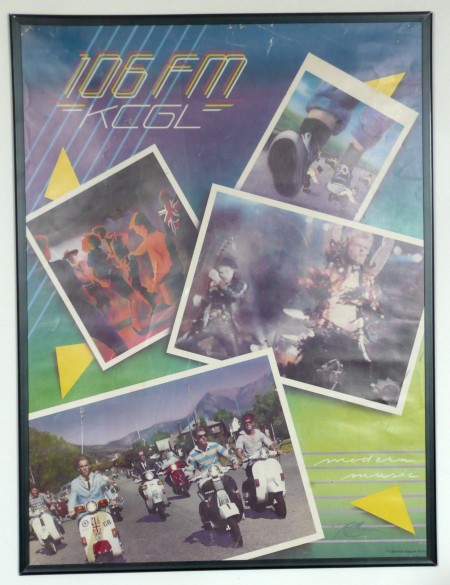 I loved KCGL and I loved this poster even more. I looked at those guys on the scooters and tried to recognize them. I used to imagine that it was Soren Winslow on the left in the blue suit. The drawing on the upper left reminded me of the Ritz and I used to look at it, wishing for the weekend to come sooner.
I didn't get this poster until after KCGL died, so it felt very special and precious to me. I've kept it safe for a quarter of a century and now it hangs in my office with love.