When I went to Westminster College, these posters were all over the halls, advertising a showing of Randall Lake's work at the Rio Grande. I stole this one off the wall and kept it for my own. It's called Rococo Punk.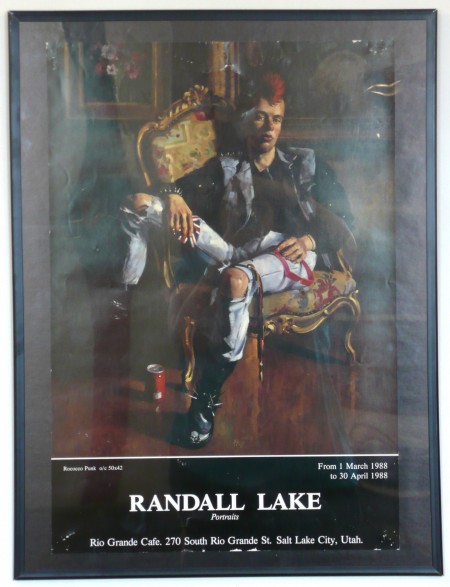 The funny thing is, that you can buy this poster even now, after twenty-two years.
I would love to know where the original Rococo Punk is. Was it bought by a private collector? Does it hang in a museum or collection somewhere? I wish I could see the original painting.
I looked at this poster so often during my young adult years that I feel like I have a personal relationship that punk in the painting. I'm sure he was a real person. Where is he today? Is he an aging punk? Did he cave and become a lawyer after Heroin Bob died? Was he just a poseur in the end?
Written on the back of my poster is the name of the person to whom it was supposed to go after the exhibit, but I didn't wait that long. I stole it off the wall before she ever got a chance to claim it. I never really felt guilty for stealing it because it was a poster of a punk rocker and stealing a poster off a wall is more punk than putting your name on a list and waiting until your appointed time to take it.
I finally have enough wall space in the new house that I can display it again with pride. I'm not that punk rock girl anymore. I'm more of a punk in disguise…
Nope, not even that. I was just a poseur all along…
Update 03-31-10:
I got an email from Stuart Lake, Randall's son. You can read it here:
Hey Laura,

My name is Stuart Lake and I am the son of Randall Lake. I stumbled upon your blog about the Punk painting you stole from Westminster and I printed it for my dad to read. He doesn't have a computer and so he hand wrote a letter that I am to pass on to you. So here it is:

Dear Laura Moncur,

I loved the writing about the Rococo Punk. To have my art stolen off a wall is the highest compliment you could pay me. Thank you for doing so – and if you are ever in Salt Lake City – you are welcome to as many as you want, on me. The Rococo Punk was sold at the John Pence Gallery in San Francisco. It was painted in 1986 and it sold in the late 80's or early 90's. John told me that it was a difficult sale.

Like yourself, I would also like to know of its whereabouts. One of the caveats of doing business with a high-end, out of state gallery – is that they never tell you to who or where any of your artwork goes, out of fear that you would or the collector would go behind the gallery and buy personally from the artist and avoid the 50% commission the gallery takes.

Underneath this painting if it is x-rayed is Abraham and Issac. I painted over them to paint the Punk.

The model for the punk was a student at the time attending Roland Hall. Last I heard he worked at Sam Wellers Bookstore in Salt Lake.

Anything more I can tell you, feel free and ask.

Cordially,
Randall Lake