Just a quick note to wish you all a Happy Easter! I found this old postcard in a used bookstore last year, so I scanned it in for everyone to enjoy!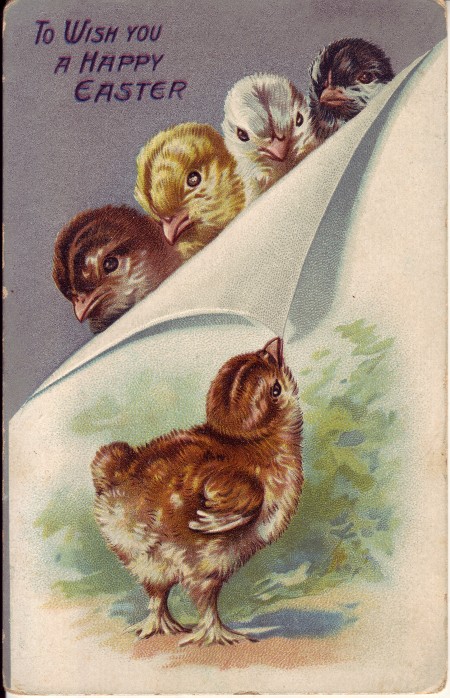 The postcard was addressed to a Miss Gladys Kleine in Ashville, New York and sent on April 9, 1909. It feels so weird to have a hundred year old document in my hands.
Here is the back of the postcard: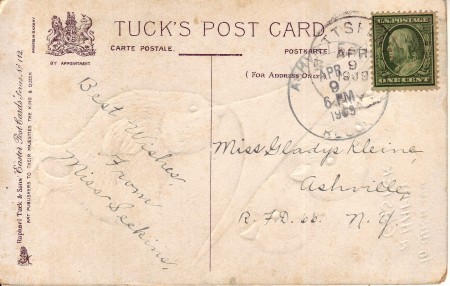 The postcard reads:
Tuck's Post Card
Raphael Tuck & Sons "Easter Post Cards" Series No. 112
Art publishers to their majesties the king & queen
Printed in Saxony
The letter to Miss Gladys Kleine reads:
Best wishes
From Miss Seekins
The two of them must have seen each other regularly because the card is so simple. Miss Seekins didn't feel necessary to fill the postcard with updates about her life, so I suspect that she and Miss Gladys lived nearby.
The postcard is embossed with the image, so the chick and even the letters to the words, "TO WISH YOU A HAPPY EASTER," are raised and I can feel them with my fingertips. You can actually see the embossing on the letter side of the postcard if you look hard enough.
If you like reading old postcards, you can find more at my travel website here:
Have a happy Easter!