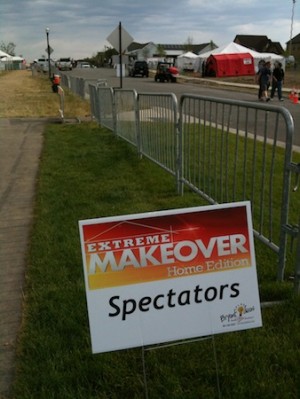 When I heard that Extreme Makeover: Home Edition was coming to Daybreak, the first thing I thought was, "This is the LAST neighborhood that needs an extreme makeover!" All the homes here are less than ten years old, what could they POSSIBLY makeover?!
Instead of demolishing and fixing an old house, they built a new house from scratch in ONE week! I couldn't believe it! I really thought they would cheat a little by pouring the foundation early since they take so long to cure, but NO! They didn't start pouring the foundation until the first day. They used a quick cure concrete that set up in two hours, so they were able to move ahead far quicker than a normal contractor. Heck, my patio took twenty-four hours to firm up and that was on a hot summer day, so two hours is AMAZING!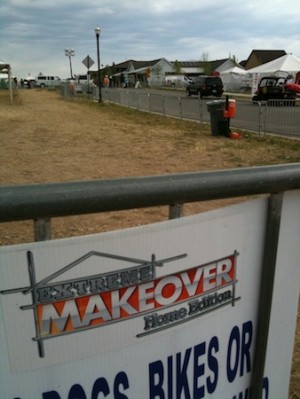 The security is high in that area. Mike's brother, Matt, lives on the same street and he needs to have a special pass just to get home every night. Police are manning it day and night to keep gawkers out. They do, however, have a place where spectators can watch the work that's going on and the Daybreak Facebook account has been asking for volunteers and snacks.
Holmes Homes is building the house and Rio Tinto donated the land for the project. The family has a son with two rare blood disorders and taking care of him has been a burden. Today, they receive the house after a mere week. And it looks like it's ready to go!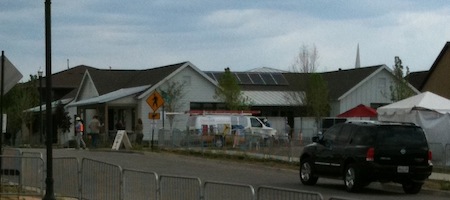 I've never watched Extreme Home Makeover, but I'm programming my Tivo to record it now. I'm pretty curious to see how they portray my neighborhood!