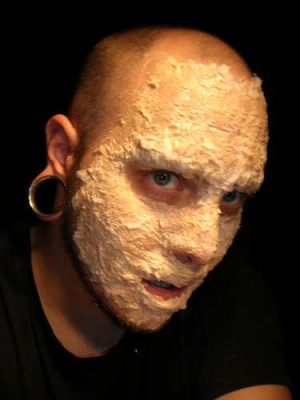 Here are a couple of links to instructions on how to do scary makeup.
This year's Halloween theme is Scary Monsters, Super Creeps, so I'm going as a mummy and I'm looking for makeup techniques that will look like I have thousand year old skin. Hopefully some of these links will help me.
Update 10-26-11: I tried to the liquid latex and toilet paper method. It didn't look good on my first try and I probably could have learned how to make it work with a few more trial runs. Unfortunately, my face reacted to the liquid latex. It was itchy, red and sore for a couple of days afterward, so I abandoned that idea for my costume.
The directions for the liquid latex recommended that I do a test on my forearm before using it, which I did, but I didn't have a reaction. My face, apparently, is FAR more sensitive than the skin on my forearm. Don't be stupid like me. Do a tiny test on your FACE before spreading that stuff all over. Give it at least thirty minutes to see if there is a reaction at the test site before doing your test run for your Halloween makeup.