This postcard from PostSecret made me want to hug the girl who sent it.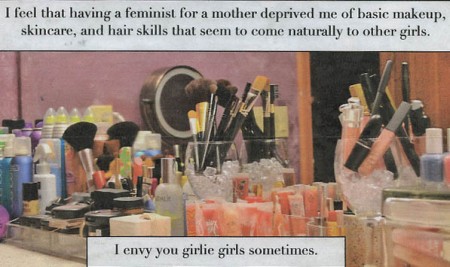 It reads:
I feel that having a feminist for a mother deprived me of basic makeup, skincare and hair skills that seem to come naturally to other girls.

I envy you girlie girls sometimes.
My mom never really taught me how to do makeup or style my hair. I think she did it because she wanted me to stay a kid as long as I could. Pathetically, I stayed a kid until about ninth grade when I realized that I needed to get some makeup and hair skills or I was going to be ignored my whole life.
Seventeen magazine taught me a lot, but now, my favorite is YouTube. No matter what I'm trying to do, YouTube has a tutorial for how to do it. If you are in need of some makeup and hair skills, here some of my favorites:
Heat Free Dolly Curls from YaYaLifestyle: This has been my absolute FAVORITE hairstyle lately. So easy and it looks really good the next morning. The only thing I do differently is that I apply TONS of anti frizz (I used BioSilk) to my hair because my hair is a frizz magnet.
If you didn't plan your hairstyle the night before, here is a tutorial how to curl with a curling iron. Skip to the 2:20 minute mark to get to the curling portion of the video:
I love the tutorials from Sephora's YouTube Channel because they sell makeup sets and then SHOW you how to use them. If you want to go with your own makeup, they also have great general tutorials. I love this five minute makeup tutorial. They focus on making it quick and easy. Of course, I need to focus on blemish coverage (still have pimples, even at 42 years old!) instead of worrying about baggy eyes. My eyes are fine and mostly hidden under my glasses, so I would spend more time on hiding all my pimples.
Last year, I bought this palette and I loved this video because it showed me how to actually USE the makeup I bought.
Honestly, all the skin care tutorials just talk about products and I have never found a skin care routine that has worked for me, so I have nothing to share there. Here's a good tutorial for how to shampoo your hair, though. I don't use the turbo turban. I find the towels at Ikea work the best.
That girl who felt like she never was taught how to use makeup by her mother just breaks my heart because I felt the same way. Fortunately, there is an entire ARMY of people online willing to teach me how to be a girlie girl.
---
PostSecret's beneficiary is the National Hopeline Network. It is a 24-hour hotline (1 (800) SUICIDE) for anyone who is thinking about suicide or knows someone who is considering it.