Sent via the form at lauramoncur.org
we are contemplating a move to daybreak from harvard/yale area. can you provide me with your opinions both good and bad.
our rationale: i am sick of the cost of maintaining a drafty old house. looking for something that feels the same without the expense (time and money). daybreak seems like a good choice, but i know nobody who lives there. plus it seems like a fun neighborhood for kids.
thanks you for your insights,
kendal
oh, and how are the schools?
---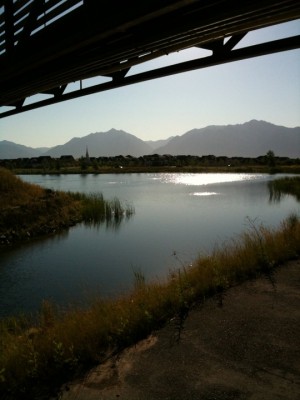 Kendal,
Living in Daybreak is definitely different from Sugarhouse. If you work downtown, your commute will be horrible unless you are able to take Trax. That is the worst part of living here. Sometimes, it takes me thirty minutes just to get from Daybreak to I-15. I thought the 114th South exit would help, but it's still an ordeal just to get to the freeway. If you can take Trax, it's awesome because you can read or listen to music, but driving it is miserable.
I LOVE that our house needs no maintenance. We were constantly fixing things in the Lake Street house because it was over a hundred years old. It's so nice to live in a house that just works. One caveat, building a new house is always a nightmare. It would be better to buy one of the existing homes here than to try to build a new one.
This house takes less money to heat as well. Even though it's twice the square feet, it's so energy efficient that we pay less in heating and cooling.
One unexpected plus is there is less smog out here. Since we moved here, Mike's asthma has improved so much that the doctor has cut down his dosage of all his medications. That saved us money, but more importantly, my husband is much healthier. We will never move back to Sugarhouse for that reason alone. This is our third winter in Daybreak and I am not dreading it like I used to because I know that Mike isn't going to be struggling for his every breath.
I love the Daybreak activities. They do something every month and I really look forward to them. The summer is the best because they have live music every Friday and Saturday night. If you want the Sugarhouse feel where you can walk to and see the activities, try to get a place near Soda Row or the Community Center. East Lake and the North Shore don't have as many activities within walking distance as Founders Park does.
I don't have any children, so I can't tell you about the schools. It's nice that there are so many kids here, though. I always found it a little creepy that there were never any children around in Sugarhouse.
Best of all, I haven't had anything stolen off my porch. I haven't had anyone arrested in my backyard. And not one panhandler has knocked on my door asking for money. The cops are so bored here that I feel VERY safe. All those things happened to us when we lived in Sugarhouse, so you can imagine we were pretty sick of it by the time we left. I've talked about the crime problems in Sugarhouse here:
The one negative that I can say is that the children run positively WILD here. It's not uncommon to see a three year old child wandering alone with no adult supervision, so drive SLOWLY.
If you're thinking of moving here, I say go for it. I absolutely adore it here, so I would definitely recommend it.
Best, Laura