I've finished adding the curtains to our Teardrop American Outbacker.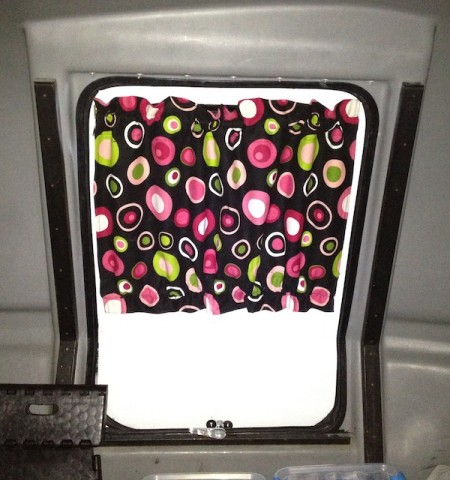 They stay put even when the door is open.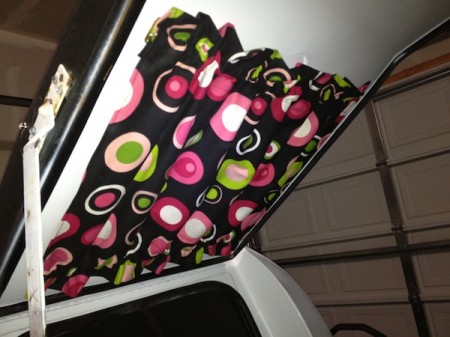 I lined them, so they look good from the outside AND inside.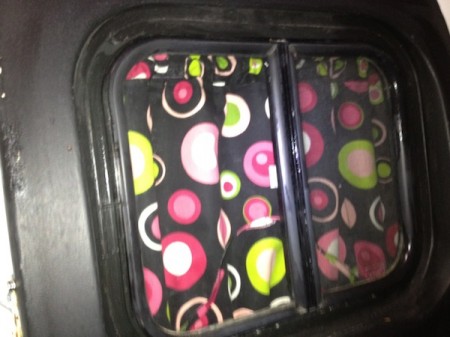 I also added a tie (permanently attached) so that we can open them when we want light or ventilation.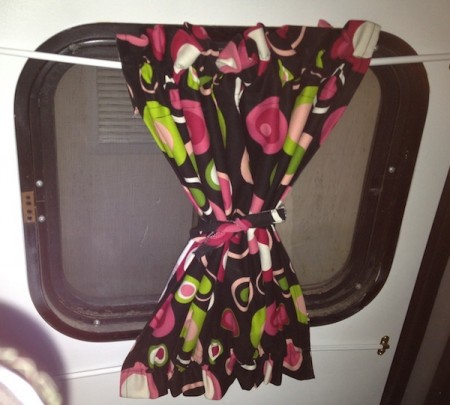 I'm a little worried that the curtain rods bow so much in the middle when I tie them up, but we will probably leave them closed most of the time, so I've decided to not worry about it unless it is a problem when we're camping.
I also made a couple of throw pillows out of the same material, but we haven't gotten a mattress yet, so they'll have to wait. We measured the bed space and it's approximately 70″ wide by 78″ long. That's just barely too small for a California King, so we're going to go with a Queen sized mattress.
But, first, we have to do the water test to make sure the weather stripping will keep out the rain.
Update 05-07-12: We took the trailer camping last weekend and EVERY ONE of those stupid curtain rods broke. The ends popped off each of them, making the curtains fall. I'm going to replace the rods with something more substantial.
Note to self: If you are a little worried about something (like bending curtain rods), fix it BEFORE you go camping. Trying to deal with that stuff while we were at the campground was more difficult than it would have been if I had just solved the problem at home.