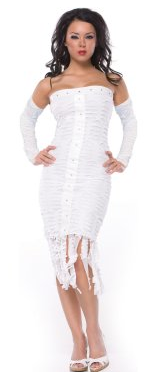 Last year, when I wanted to be a mummy, I had a bit of a problem. The mummy costume that had been handed down to me by Stacey was too tight. I had a choice. I could find (or make) a new costume or lose ten pounds. So, I looked for a mummy costume that would fit me a bit better than the old one. All I could find in the stores was the costume on the right.
It wasn't really what I was looking for. I didn't want to be a sexy mummy. I wanted to be a scary mummy. The theme for our party last year was Scary Monsters, Super Creeps. In the end, it was easier for me to lose the weight (only lost seven pounds, but it was just barely enough) to fit into the old costume than to find a new one that wasn't overtly sexualized.
If you are sick of the Slutty Costume Phenomenon, then here is an alternative.
These folks have a ton of suggestions for costumes of women that are inspirational, powerful and not particularly slutty. Of course, lots of the costumes are just famous women from the Victorian Era, which is kind of disturbing to me because they forgot all the women like Madeline Albright and Margaret Thatcher because they just wore normal women's business suits.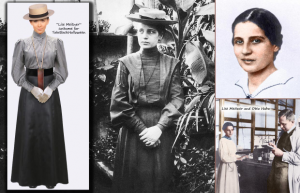 Of course, every damn one of these costumes would turn into an evening of, "Who are you?" questions, followed by the boring explanation. Lisa Meitner might have been the woman to discover nuclear fission, but NO ONE has heard of her, so your costume just turns into a boring lecture on patriarchy in the sciences. The best costumes don't need to be explained, so choose wisely.
Ironically, I won the prize for Sexiest Costume last year, even though I tried so hard to be scary. And the most ironic thing of all is that it felt REALLY GOOD to win that prize.