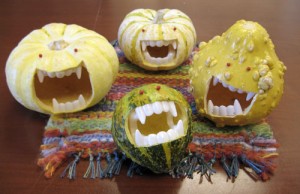 Here is a link to a great tutorial that shows you how to make fanged pumpkins. They look awesome!
When I was at the grocery store, I saw some Pumpkin Teeth that you could buy, but they weren't as cheap as those vampire fangs. You can get twelve vampire fangs for a dollar, whereas the Pumpkin Teeth are nine bucks for a set.
Save money AND create a scary Halloween decoration! Score!