I was reading Neato Coolville today when I saw a blast from the past: a K-Mart price sticker.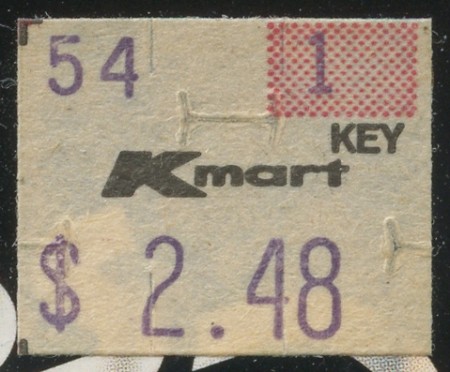 It brought back so many memories for me. In 1985, I got a job at the new K-Mart in West Valley on 5600 West. We were the first K-Mart in the city to have scanners, but that didn't mean that we didn't need to put prices on EVERY SINGLE item in the store. I know it sounds weird, but back then, even though we had a scanner to ring in the prices for us like every store in the U.S. does now (except Hobby Lobby, WTF?!), we still needed to stick prices on every piece of merchandise in the store.
Mostly because the prices weren't logged into the computer correctly…
I LOVE K-Mart. That job I got when I was in in my junior year of high school ended up paying for my college. I stayed there for SEVEN years and spent seven Christmas seasons and Black Fridays at the checkouts. Even the Christmas I was a pharmacy tech, I ended up working the checkouts because they were always so busy during that time.
That's why I NEVER go to Black Friday sales. I worked SEVEN Black Fridays. I've seen women get into fist fights over blankets. BLANKETS! I listened to that same 45 minutes of Christmas music over and over for two months. I manned the Blue Light Special, braving the throng of people rushing at me. That's why I cringe at the people camping outside for two days before Black Friday. That's why I avoid stores during the next month. That's why I do almost all of my Christmas shopping online.
Yet, I still felt a beautiful twinge of nostalgia when I saw that price sticker. YES! That was what my teen years looked like. That little number in the upper right hand corner was the Key Number. That particular product was Key 1, so it was general merchandise. There was a time in my life, when I had all the Key Numbers memorized and I would have been able to tell you whether something was from the Garden Shop or Sporting Goods, just based on that little number in the red square.
Here is a picture of my K-Mart right before it opened up in 1985: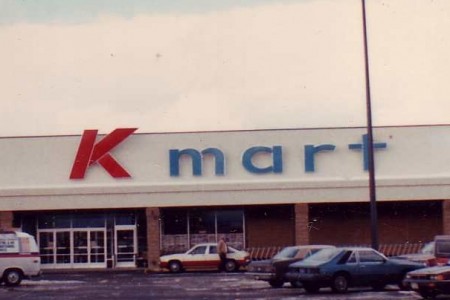 Our store opened the weekend BEFORE Thanksgiving, so our Grand Opening beat the Black Friday sales by a week. It was phenomenal. I had never before seen people with SO many things in their carts. I just remember people with TWO carts FULL of clothes and toys. I had lived a pretty humble life, so the idea of going to K-Mart and filling up two shopping carts full of things to buy was completely foreign to me.
I spent most of my time working at K-Mart at these checkouts: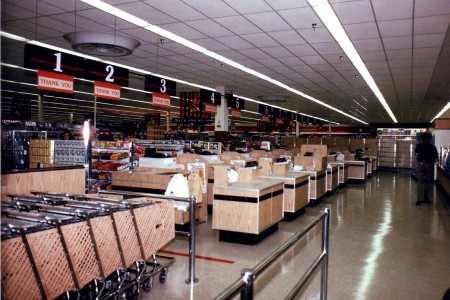 I wasn't smart enough to take these photos. Our human resource director, Sally, took these photos and put them in a photo album for us to look at when we were feeling nostalgic. Of course, when she moved to another store, the new human resource director basically threw the book away. I dragged it out of the garbage, however, and saved my favorites (some Halloween photos and these two). I feel as if Sally took those photos for me, personally.
My Christmases at K-Mart were miserable 70 hour work weeks with no respite from the scanner and go-backs, but they financed my college degree. It was a lot of back-breaking work, but also a lot of fun memories. I love K-Mart. Maybe I should go there just once this holiday for old times sake.