It's hard to believe there was a time in my life when I could buy a hamburger for 28 cents, but it's true. This photograph of the Dee Burger Clown reminded me of it all.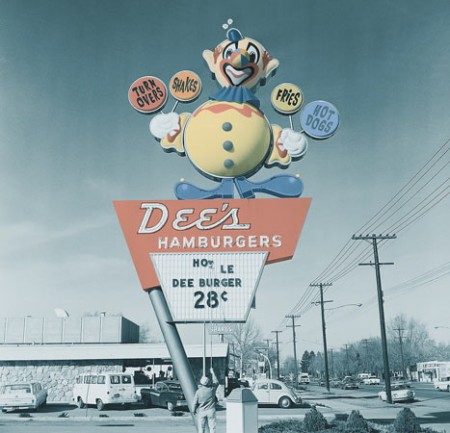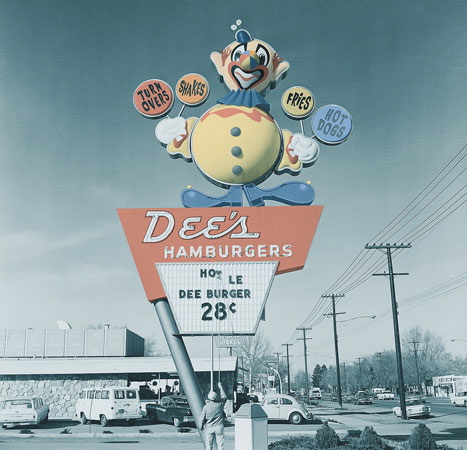 One strange note, The Dee Burger Clown was a two-faced beast. He had a face on both sides of his head and you would think that would have scared me as a child, but it didn't. All of that was before clowns were scary to me.
Every once and a while, Dee's would put their burgers on sale for 28 cents a piece. Whenever that would happen, Carol would buy a couple of bags of their burgers and put them in the freezer. Over the next few weeks, I would have free access to a hamburger whenever I wanted. All I had to do was take one out of the freezer and microwave it.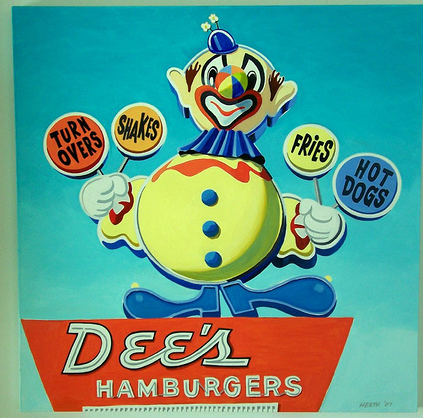 Now, they weren't delicious by any reckoning and they were rather small (about the size of a McDonald's kid's burger), but that didn't stop me. I could add a slice of cheese and a bit of mayo and they would be a great meal for Stacey and me after school while we waited for Carol and Mom to get home.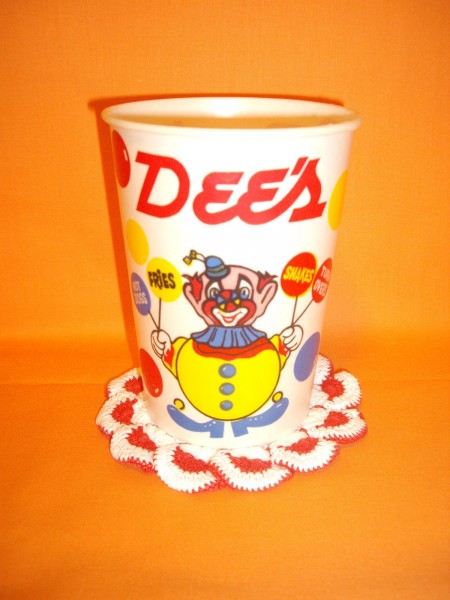 As far as I can tell, the McDonald's hamburger is about $1 now. How does that compare to the cost of a Dee Burger Hamburger in 1982? According to the Inflation Calculator, 28 cents in 1982 is the same as 64 cents now. Even today, a hamburger for 64 cents would be an amazingly good deal. Of course, all the Dee's Burger joints were sold to Hardee's in the late Eighties, so it might be that those incredibly cheap hamburgers were their death knell.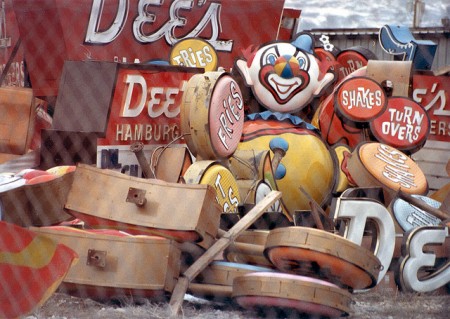 A few years after that, Hardee's closed all its restaurants in Utah. Some of the sad and vacant buildings were bought by Burger King and the rest have become Berto's, Alberto's and Gualberto's all over the city. Sadly, I still miss the Hot Ham N' Cheese sandwich that Hardee's used to have, but mostly, I miss the happy, Dee Burger Clowns who used to be all over town, with lights shining through their bellies and swaying side to side with their ever-inflated balloons.
Update 08-27-13
Here's a photo of the Bountiful Dee Burger Clown from Facebook.