I've been playing Animal Crossing New Leaf constantly for four months now. I am so excited that they have brought Halloween back to the game. On the first of the month, Jack visited me and asked if I wanted to be one of his loyal subjects.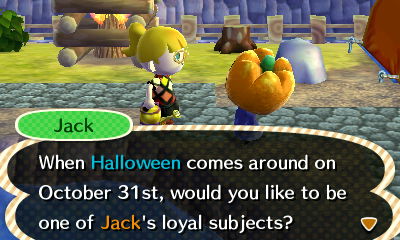 Since it's my favorite holiday, I agreed and I am eagerly collecting candy and Halloween masks to wear on that wonderful night!
So excited!
If you would like to visit my town, my Dream Address is 4000-2185-7855.