I haven't seen Blades of Glory, but Jenna Marbles' costume last year was totally awesome.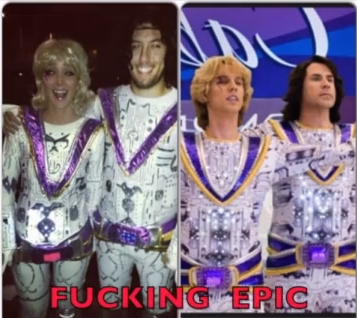 Here is her video showing you how she made it.
Jenna loves Halloween and has another video about Sluts on Halloween here:
I love this!
What you are doing is taking away from the spirit of the best holiday ever, Halloween. Halloween is the one night of the year that you get to be whatever you want to be! When you see these girls dressed as sexy cops, nurses, animals, I don't know… It's not that they're such a huge fan of cops and nurses and animals. It's just that they want to be a slut for Halloween, because they're probably not sluts in real life.

People want to be perceived as attractive and hot. Halloween is the one night to do it. So what I want to say to all the girls out there is that I challenge you. I dare you to go out on Halloween, see a girl who looks cute, and just go up to her and go like, "You know what? You look hot! I appreciate the fact that you probably went on a diet and exercised your tiny little butt off to fit into that costume. Congratulations! It worked!"

If you're not the type of girl who wants to dress up like a slut, that's your choice. No one hatin' on you for being a toothbrush.
I love that she was able to address the Sluts on Halloween issue for what it really is, which is girls hating on other girls. We should all just get along!