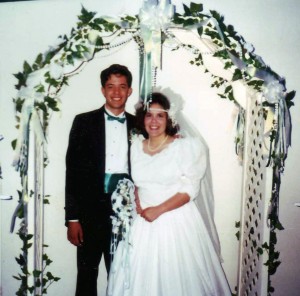 Today marks the twenty-fifth wedding anniversary for Mike and me. I have seen MANY Pinterest boards devoted to wedding dresses, decorations and food. Twenty-five years after the fact, I have a little advice about your wedding.
After 25 years, your wedding dress won't matter. The likeliness of you wearing it again, it fitting your daughter, you even HAVING a daughter is so slim that it will just sit in a box, taking up space or you'll use it for some ghastly craft project. Choose something cheap. Rented is even better.

The photos (and video) of your grandmother will be more precious than the photos of you and your spouse. Make sure the photographer takes NUMEROUS pictures of your parents and grandparents on both sides.

No one will remember the center pieces unless they are ugly or weird.

No one will remember the venue unless it is difficult to find or so exclusive that your guests have to jockey through security to get to the ceremony.

No one will remember the food or the cake unless it gives everyone food poisoning.

Plan to wear flats and have your dress hemmed for flats. If you wear heels, you'll kick them off three hours into the reception and you'll be tripping on your dress. Don't forget to break in those shoes BEFORE the wedding. You don't want blisters when you are standing for eight hours straight, welcoming guests and trying to dance.

Make sure the rented flower arch doesn't have any silly ribbons or flowers hanging too low. Otherwise, all your pictures under it will have something in the way of loved one's faces (like mine did).

Make sure there are enough seats. Chairs are more important than a dance floor.

Even at an outdoor wedding, make sure the food is inside to prevent bee attacks and fly swarms.

Watch placement of the podium at the bridal ceremony at an outside wedding so the pastor doesn't get sunburned.

Send thank you cards. Save the addresses and send Christmas cards every year. This is how you find out who moved or died. That information will give you far more familial power than you ever desired.
I've seen the bridal industry get so bloated and overblown over the last twenty-five years that it disgusts me. Don't spend so much time and money on your wedding. There is a whole life ahead of you aside from "your day."