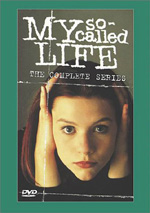 "I finished My So Called Life this morning while I was on the treadmill."
"Oh…" Mike is eating breakfast. He made himself this delicious bagel with Nutella and cream cheese. I can't see him eating it, but I'm still jealous.
"I guess the problem that I'm having is that they didn't know that they were going to be cancelled, so they left the series with all these loose ends that never got tied up."
"Yeah." I don't know if he's listening, but I'm really just talking to myself.
"I've been thinking about how it should end, but I really don't know how it should be…"
"Why don't you just imagine that someone comes into the school and shoots up everyone."
"You're a freakin' genius."
"I was joking."
"No, really. You're a genius. Now who would it be?" I'm really excited about the prospect of annihilating the entire cast of My So Called Life. "I know!"
"Know what…"
"Tino! The Elusive Tino!"
"Ok…" He has finished his breakfast and his attention is on me fully, but he's obviously confused.
"There's this character in the show that I don't think is ever shown on screen. Everyone says things like, 'I'll get that from Tino,' or 'We're waiting for Tino,' or 'I guess Tino's my friend.' Maybe in the final episode, Tino FINALLY shows up to school and shoots up the place!"
"I really was joking."
"No, it's brilliant. He would kill Rayanne because she tried to replace him in the Frozen Embryos. He would kill Jordan because he actually did replace him and renamed the band. He would kill Angela because he figured that she was the reason Jordan took over the band. Ricky would get shot trying to protect Angela and Rayanne. I don't know why Tino would kill Brian and Sharon, though…"
Mike has stopped listening. Either that, or he's patiently waiting for me to come back down to earth and start talking about something beside ten year old television shows.
"Maybe I'll just have Tino kill Jordan and Angela and everyone else has to deal with the aftermath. Maybe Brian would marry Rayanne Graff. He deserves a wild and exciting girl like her don't you think?"
"I was just joking…"