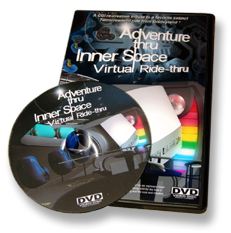 I got my DVD of the CGI Re-Creation of Adventure Through Inner Space a couple of days ago. Since I remember so little of the original ride, I have no idea of how close it is to the original. I listened to the commentary track from the creator and I realized how utterly obsessed someone has to be to complete a project like this.
It took his computer three months to render the opening sequence. THREE MONTHS! And he had a really cool machine to work on (top of the line back in 2003). For three months, he waited for his computer to render just part of this project. I'm bugged when my computer takes a few minutes doing anything.
This is why I love the Internet. No matter how obsessed I am about something, there is always someone who is more obsessed willing to share the bounty of his work. That DVD was totally worth the $25 it cost me. Thanks, Steve!