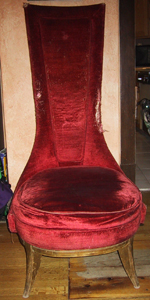 We moved out of Stonehedge Apartments in 1996, so we've had the chair for almost ten years now. It was sitting by the dumpster. The owner hadn't been willing to just toss it in the garbage. Whomever they were, they loved the chair too much. Mike wasn't home. Kathleen Bennett was with me and the two of us hauled the chair into the apartment. I loved it instantly.
The cats loved it instantly. It was obvious that it had been a favorite scratching post at its previous home and our cats furtively tried it out. They very quickly learned that it was ok to scratch it if Mike was watching. Only Laura would scream at them for scratching the red chair.
Mike, and everyone else who has ever seen it, has thought of the red chair as a joke. "She pulled it out of the dumpster." The truth was that I found it lovingly set by the dumpster, but the image of Laura pulling the ratty thing out of the dumpster was funnier, so I let the slip go. "It's horrible. Put it back!" No matter how much I tried to convince them, they couldn't see how fabulous it is.
When we moved to Sugarhouse, we went from 3500 square feet to about 900 square feet, so a lot of our furniture ended up in storage. That was two years ago. In that two years, we paid $2400 to keep that furniture in storage. We could have bought a house of new furniture with the money that we spent to keep our old stuff, so we have decided to give it all away to save money, including the red chair.
The huge pile of our personal items was sitting on the driveway, waiting for Deseret Industries to come pick it up. We allowed our neighbors to pillage the pile for whatever they wanted. They took the imitation Tiffany lamp. "Don't you want this red chair? It just kills me to let it go." They looked at it in disgust. "We don't have room for it, sorry." I sighed and hoped that someone would find it at the DI and love it as much as I have.
"Did the DI pick up the stuff?" I asked Mike, hoping that they took everything. "They took everything but one. Guess what they left." I cringed at the thought of trying to dispose of that huge, broken treadmill on my own. "The treadmill?" "Nope." "The red chair?" "Yeah," Mike laughed, "They said it was too crappy for them." We laughed because we have seen the wreck of furniture that they WILL take. If they left the red chair, it must truly be horrible.
"It's a sign! I need to keep the red chair." I didn't want it to go to the DI and I breathed a sigh of relief that they wouldn't take it. I could hear Mike shaking his head on the end of the other line. "No, Laura. It's a sign to throw the chair away."
As of right now, the red chair is in front of my computer desk, taking the place of the ergonomically correct computer chair. I have plans of recovering it and changing it from a cat scratching post to a unique and interesting piece of furniture that will be the envy of everyone who sees it. Why am I the only one who can see how beautiful it is, right now?