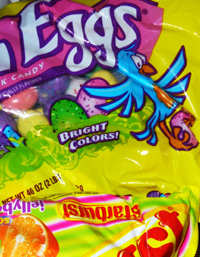 I remember the last Easter that we celebrated before we became Jehovah's Witnesses. I was so excited, I woke up early and looked around the house. I opened the curtains to look outside and found a little colorful toy on the windowsill. I realized that I shouldn't do Easter without my parents, so I left it alone on the windowsill and lay back in bed, waiting for my parents to wake up.
In my mind, I waited a long time, but it was probably only a couple of minutes. I woke them up and they sat on the couch while I looked for "what the Easter Bunny left me." I headed straight for the front room window and moved away the curtains. My mother said, "It's like she knew it was there." I did, Mom. Sorry I never told you.
After the divorce, Mom always gave us Easter baskets. They were beautiful creations with plastic Easter grass. I always had enough candy to last me for weeks, saving the best parts for last. The chocolate Easter bunnies that we sold in junior high to earn money for choir became the focus of the baskets. I always ate the solid chocolate from the ears down. They suffer less when you eat the head first.
Now, as I walk down the Easter aisle with Mike in the grocery store, I am untempted. He stocks up on Robin Eggs and Cadbury Eggs and even eyes the Peeps, but I'm unphased. I had enough Easter candy as a child that I never feel deprived. I let Mike fill the cart with his treats and none of them tempt me because I am full.
---
Apparently, some folks think feet first are better.
Barbarians…