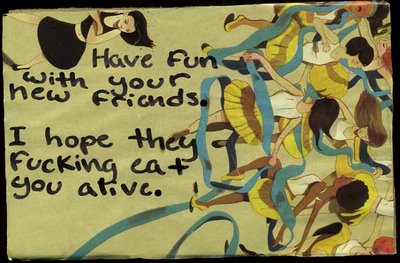 This postcard from PostSecret reminded me of an entry that I wrote a long time ago. The entry has had so many comments that it has a life of its own:
Pick Me! » When Your Best Friend Ditches You For Her Boyfriend
The comments are heart-wrenchingly sad. It seems that girls and boys have experienced this heartache. My entry doesn't have all the answers and people from all over the world have poured their hearts out on my comments section. Here are a few quotes:
"My friend has just recently done this, and I have felt like saying completely awful things while having to listen through excrciating torture of having to listen to her talk about him!"

"her boyfriend is mean and makes fun of me and she doesnt really care"

"I am becoming 2nd best and it's really hard to deal with as I am single and feel lonely sometimes and it's so hard when even my best friend isn't there for me when I need her."

"i havent had any friend closer to me than her and it does hurt, believe me"

"It took her three months to place this 'special someone' above me, her best friend of eight years."

"Hey, found this site coz I typed how I felt into Google. I'm a guy as you can probably tell by my name, but the case mentioned above applies to me vice versa. I feel like my best friend spends less time with me and our friendship feels like it has suffered since he got a girl."

"I dont really get the point of considering someone your best friend when they can just leave you there like trash."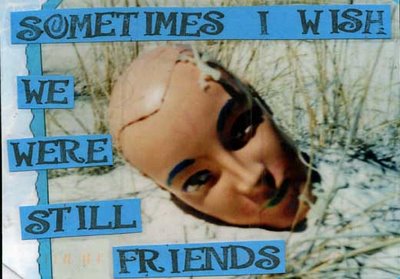 After reading all the comments over the last two years, I realize that my little entry is woefully inadequate. Some people say it helped them and the many stories in the comments help people realize that they are not alone, but I feel as if my entry just wasn't enough. We humans are so complicated.
---
PostSecret's beneficiary is the National Hopeline Network. It is a 24-hour hotline (1 (800) SUICIDE) for anyone who is thinking about suicide or knows someone who is considering it.