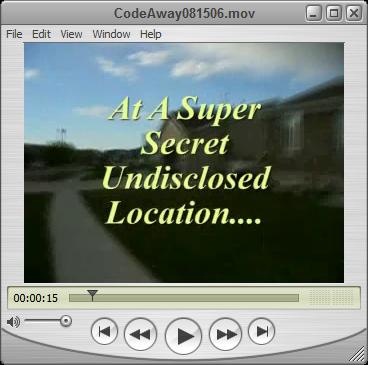 This month's CodeAway was awesome! I wish I had gotten more video of our conversations. Dave Turnbull showed us his Google Map Mashup for the Pete Ashdown for Senate website. He added my house onto the map of Pete supporters.
Matt Reinbold talked about his two awesome weblogs, mutednoise and BloomBurst. We brainstormed ways to enhance the interactivity and to drive more traffic to them. His coverage of the remix culture on muted noise is excellent. If you like cool videos, go there and see what he has gleaned for you.
I was working on new ideas for The Quotations Page and they suggested some great ones like a MySpace widget that allows MySpace users to post The Quotes of the Day on their page. Halfway through the evening, we realized that Mike's entry on The Gadgets Page (10 Ways to Make Your Digital Photos Last Forever) was only four diggs away from getting on the front page of Digg.com, so we went online and gave it our three digs and Gary Thornock gave us the final fourth to get us on the front page. Thanks, guys!
Next month, we might be meeting in a more public space that doesn't need to be super secret and undisclosed. If you were wishing for BarCampUtah, you should come to next month's CodeAway. It's like a mini BarCamp!
Update 08-21-06: Matt has posted his recap of the August CodeAway here: BloomBurst – August CodeAway Recap
The date has been set for next month's CodeAway: Pick Me! » September 2006 CodeAway