Back in 2004, I wrote an entry about butterflies and how I had never had one land on me.
I talked about Hawthorne's quotation:
"Happiness is as a butterfly which, when pursued, is always beyond our grasp, but which if you will sit down quietly, may alight upon you."
Nathaniel Hawthorne
I had decided it was baloney and challenged my readers to post in the comments if they had ever had a butterfly "alight" on them.
"If you have ever once had a butterfly alight on you, I want you to leave a message. In all of my days of staying still and waiting for them, I have never once had a bloody butterfly land on me. Ladybugs? Yes. Flys? Hell, yes! Butterflies? Not once."
Every summer since, I have received new comments from people talking about the butterflies that have landed on them. Just today, Leslie commented:
"Last Thursday I had a monarch butterfly land on my hand of its own accord while I was getting ready to leave work. The butterfly first flew past me and then turned around and landed on my hand. It was relatively windy that day, and the butterfly had to hold on tightly (which is did). It stayed on my hand for 20 minutes or more! I even put a picture of it up on flickr and called it My Numinous Experience."

"It was awesome! One of my first thoughts was that it was my Dad's spirit coming to visit, and that filled me with happiness! Yes, I too will remember this magical time forever!!"
Here is the picture she is talking about: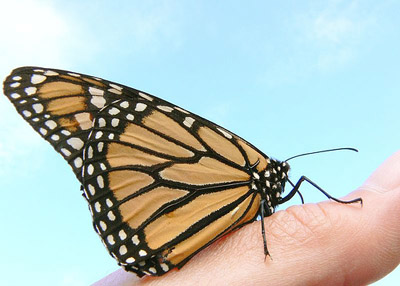 Since I wrote that piece, I HAVE had many butterflies alight upon me. It's not because of some mystical occurence, however. Mike and I went to the butterfly exhibit at San Diego Zoo's Wild Animal Park last spring. With that many butterflies in such an enclosed space, it's no wonder I had a couple land on me.
Mike even got a picture: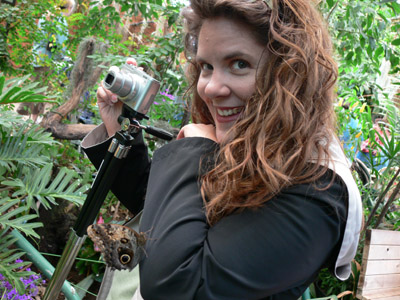 It's funny how entries that I wrote so long ago have almost found a life of their own. Rereading it was like reading it for the first time. I was so unhappy back then that I didn't believe that butterflies ever landed on people. With so many lovely comments from people all over the world, my faith in the beauty of the world has been restored.