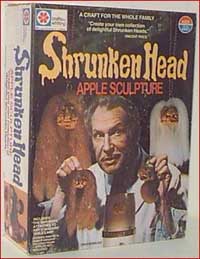 This toy looks so cool. It's just the kind of "creative" toy that my mom would have gotten for me as a kid. I wonder how I missed out on it.
If you're feeling left out, this website gives you an idea of how to get started:
Of course, you will want your shrunken head to be gory and ugly. The Vincent Price set used a series of vinegar dips to give the shrunken head a more leathery and preserved feel, so you might want to substitute vinegar during step six. Don't forget to sew the lips shut!
Good Luck and Happy Shrinking!
Via: Old Haunts – One of the all-time coolest Christmas gifts I ever got as a kid