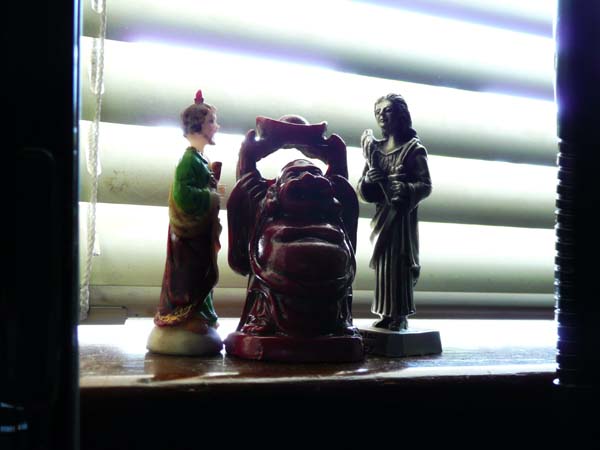 When I worked as a secretary a few years ago, I wrote entries about St. Jude and Buddha. They sat at my desk, watching over me and I imagined what they would say about me:
The two of them sat with me at that desk until I unceremoniously forgot them when I was laid off. I told myself I didn't care that I forgot them and I knew I wasn't about to go back there to get them, so I wrote them off for good.
I was lying to myself because I felt a surge of joy when I found them left on my doorstep in a FedEx envelope. My former coworker brought them back to me and I was so grateful to her. I never thanked her. I guess I'm kind of a heel for that…
They were joined by St. Lucia:
She has been watching over me and guiding my words for a few years as well.
The trio sit on the windowsill in front of my desk. The other day, it looked as if they were conferring. I wonder what they say about me now…
St. Jude: She just keeps linking to other websites and including other people's videos. Is that really writing?
St. Lucia: Not enough for me.
Buddha: Quit talking, you two! You make her look insane.