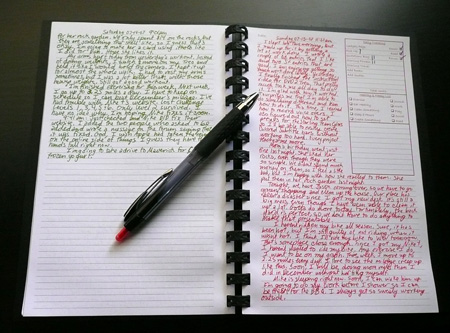 I'm particular about my handwritten journals. I create my own pages on Excel and print them up and bind them using a comb binding system. All that so I can write my thoughts offline every day. If you would like to print up your own journal, here is where you can get started.
Create your journal pages with Microsoft Excel (or Open Office Spreadsheets)
I have been using Excel to make my journal pages for years. I prefer my journal pages to be 5 1/2″ X 8 1/2″, but you can make them any size you choose. Here is a template for my journal pages:
Now, you'll have to format these pages to your liking and to work with your printer, but they are a good start. You print them on one side of an 8 1/2″ X 11″ page, and then reprint them on the other side for double sided sheets. One cut down the middle of the paper and they are ready.
Binding with a comb binder
Mike and I bought an inexpensive comb binder about seven years ago. I have broken it in so many ways, but it still does the job I need it to. They don't make the one we bought, but this one looks very similar to ours and maybe a little more sturdy: CombBind C75 Comb Binding System at Amazon.com.
Additionally, Office Max, Office Depot, Kinkos and a few other copy shops have comb binders that they will allow you to use for no charge. You could print up a year's worth of pages and punch them all without having to invest in the binding system.
When you are punching the holes in a 5 1/2″ X 8 1/2″ sheet of paper, you have to position it carefully so you don't end up with a half a hole at the top or bottom. It's different for every machine and you'll probably sacrifice a few sheets learning. Once you know how to use your machine, though, you'll be able to do it without thinking.
Cover
The cover is a lot more complicated. You want something firm enough to write with, but not so bulky that it takes up a lot of space. I usually just use the binder covers you can buy from the office supply stores for the front and back and then sacrifice the back of a legal pad for stiffness. I put the cardboard backing between the pages and the back cover.
Boring
My journal is just a boring black. I kind of like to think that my words are enough to make my journal interesting. Of course, my journals are filled with the most boring tripe you've ever read in your life, so maybe that isn't the best justification. If you want to make yourself pretty journals to match your beautiful words, here's a tutorial:
I think I'll just stick with my boring journals. They don't attract much attention, but they work for me.