I won this watch in an auction last week on eBay. It represents the 80's to me more than a lot of the other Swatches because of the primary colors, shapes and design.

This design of this watch reminds me of Mondrian paintings. He did his work in the 30's and 40's and it took that long before he became a design fad. Honestly, I still love the primary colors, thick black lines and basic shapes of that style of design. I know it's out of style now and represents the 80's, but I still love it.
In 1987, I used to spray my hair with Studio Line hairspray from Loreal. The bottle was decorated just like the Mondrian paintings. I swear I just used that hairspray because it was cool, not because it worked any better than any other hairspray.
Here's a commercial for Studio Line Hairspray:
I think this is the commercial that Sigue Sigue Sputnik sampled from to create their commercial between the two of their songs on their album Flaunt It. They actually auctioned commercial time between their songs on their album. Loreal was one of the companies to buy time and the other was i-D Magazine.
You can hear that commercial here:
It's funny how this watch represents a painting style, and the painting style represents a hairspray and the hairspray represents a band. It all is mixed up in one big soup in my mind. Back in 1987, I wanted that Swatch, but in the big scheme of things, I couldn't afford to buy all the ones I wanted when I was a teenager. Now, however, through the power of eBay, I can.
Update 12-04-12
Speaking of Mondrian, Nailasaurus just did a manicure that I would have LOVED in the Eighties: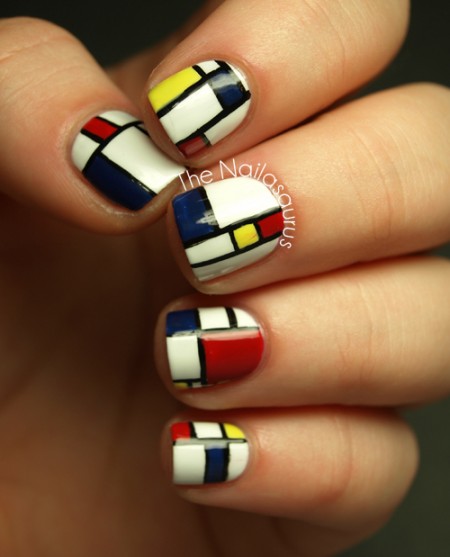 She said it was inspired by this painting by Piet Mondrian:
My sixteen year old self is salivating over that manicure and I would have LOVED to be able to do that back then! Why can't it be 1987 again, but with all my memory and skills I've earned since then?!