I always call this one my "Polluted City Swatch."
This is another watch that I didn't want to wear the band for fear it would get damaged. For most of the life of this watch, I have worn it with a transparent band. Unlike Le Poeme, however, Oxygen keeps the art, even when the original band is long gone. I put the original band back on for these photos, but I will be removing it and replacing the transparent band so I can continue wearing this watch without guilt.
This watch was part of a collection of three. Each watch represented an element. Oxygen represented air. There also was a water Swatch named Chlorine. Zerkon represented land. Squiggly.com has photos of what they look like: Chlorine and Zerkon.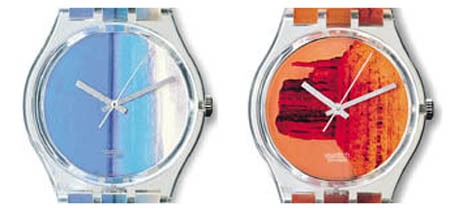 They actually have these watches for sale, but no replacement bands. I don't want my Oxygen band damaged any more than it already is, so I guess I'll be wearing this one with a transparent band.