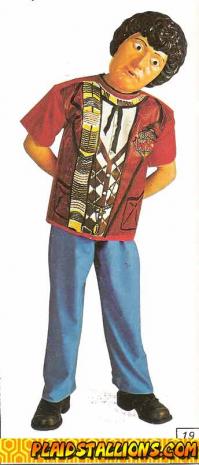 Plaid Stallions has a photo of this awesome Dr. Who costume from the seventies:
I loved Dr. Who as a kid and I would have actually liked this costume. Unlike a lot of the costumes at the time, it is trying to look like the person it's representing. When I was a kid, most of the costumes just looked like pajamas advertising whomever they were supposed to portray. As an example, see Wil Wheaton's Halloween in 1977.
This one is MUCH better!
I never got to wear a costume like this. By the time I was allowed to celebrate Halloween, I was too old for a mask and pajamas. I had to have a MUCH more elaborate costume than that to impress the junior high crowd. The first year I was able to celebrate Halloween, I was a cheerleader. Dr. Who was long gone from my memory and I wouldn't have even considered dressing up like a guy.
Even now, I wouldn't dress up like Dr. Who, despite how much I love him. I'd be perfectly fine dressing up as Ramona, however. Of course, it would be yet ANOTHER Halloween of "What are you again?"