I've been making plastic canvas furniture for the Barbie Country Living Home I found at ThriftTown back in February.
The kitchen is finally finished. I tried to make furniture that matched the original that came with it. You can see the original furniture here:
I kind of had to make a pattern myself to match the original furniture. Plus, the kitchen needed some storage, so I made a hutch for it as well. Here's a photo.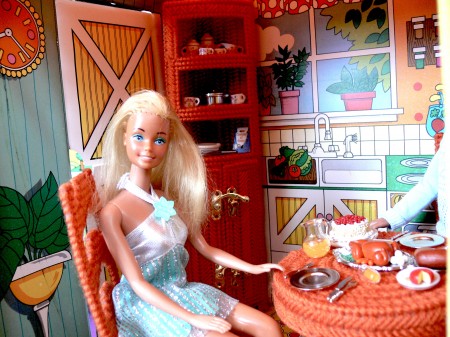 I was browsing the dollhouse section at Hobby Lobby and I noticed that most of the accessories are sized for Barbie, not the traditional dollhouse scale (which is smaller). I absolutely LOVE the little forks, knives and spoons. I remember seeing little cutlery like that on Sesame Street when I was a kid and wished I could have something like that for my Barbies. Why did it take me so long to find them?
This is my first real Barbie. I had a Skipper before this doll, but this was my first Barbie. I used to think that she was a Malibu Barbie, but her face doesn't look right. I am so sad that her hair is thinning. I brushed it a lot and stuffed it into so many ponytails that it's kind of ruined forever. On the plus side, the new Barbie clothes fit her better than her counterparts from the Eighties.