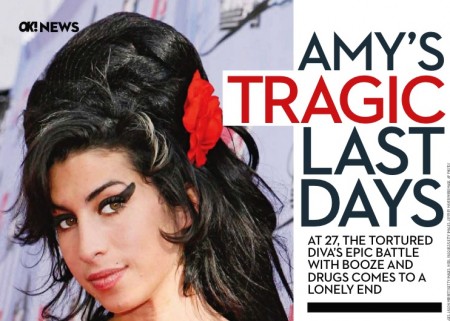 I know it's not the proper response to the death of someone I didn't even know personally, but I'm seriously pissed off at Amy Winehouse for dying. No matter how I look at it, I'm mad at her.
Maybe she just overdosed and she was a "victim" to the "tragic" disease of addiction. I know how hard it is to fight an addiction, waking every morning just thinking about the next time I can eat. Giving in to it just makes it worse. I'm pretty pissed off at her if she gave in to it.
Maybe she committed suicide so she could be a member of the 27 Club. If she did, then I'm pretty pissed off at her for not living longer and making more albums.
The only way I can think about the death of Amy Winehouse without being angry at her is to think that she was murdered. If I pretend that her handlers, managers and maybe even her family realized that she wasn't going to produce any more great music, maybe they helped her along the path to death in an effort to capitalize on her 27 Club status, then I don't have to be angry at her for dying so young.
Stupid, stupid girl.