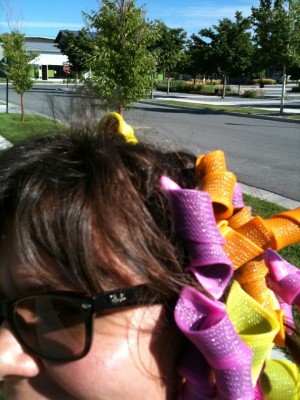 I am the mayor of Soda Row on FourSquare because Nina and I walk through it EVERY morning. I see it in the early hours when Swirly Girls is the only shop open, offering coffee and pastries to the Old Biddy Committee who sit outside, judging me every morning.
This morning, I had the audacity to wear curlers in my hair as I walked Nina. I watched one of the old ladies point at me and the other two turned to look. I pretended I didn't know what they were pointing at and looked behind me as if wearing brightly colored curlers in my hair while walking the dog was the most natural thing to do. They embarrassedly turned away from me, and when I got close enough to them to look them in the eye, I cheerfully said, "Good morning."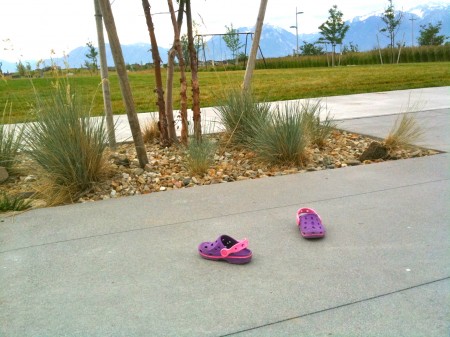 I've seen more shoes abandoned at Soda Row, near the splash fountain than at any other spot in Daybreak. The Abandoned Shoe Phenomena is more understandable there because the fountain is a veritable cry to everyone to throw off their flip flops and take a run in the water. In the early mornings, however, the fountain is quiet and dry. There are no children playing in it because they are in school or maybe even still sleeping.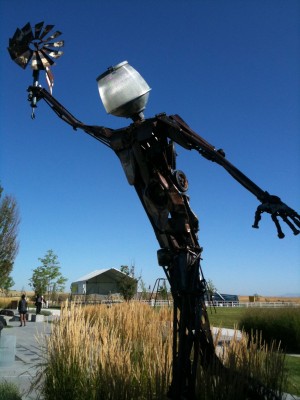 Late at night, the music from the outdoor speakers seems very loud without the din of traffic and voices to drown it out. It plays easy listening music all night long, despite the fact that Mike and I are the only wanderers through its abandoned walkways. Lamphead Man, the huge metal sculpture in the middle of Soda Row, creaks and squeaks eerily, keeping his eye on us as we walk past him in a desperate attempt to get Nina to go potty so we can finally go to bed.
This video advertising Soda Row features the noisy and happy times during the day when children splash in the water and San Gelato serves up iced confections. Strangely, it's missing any reference to Tio's, my favorite restaurant at the shops.
Watching this video is strange to me because I usually experience Soda Row at its most quiet times. The serene peace that I feel when I walk through it every morning and evening is a stark contrast to the fun activity that I see there at other times of the day. There are two personalities to Soda Row: Outgoing Fun and Serene Peace. I urge you to visit it for the Outgoing Fun, but if you truly want to take a breath of fresh air, come in the early morning or late evening and experience the Serene Peace.