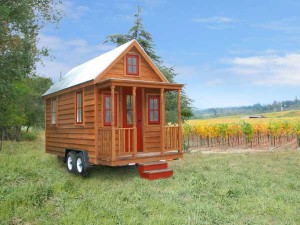 I have highlighted tiny houses before here:
Since that post almost a year ago, I've been following the tiny house trends and have found myself irked. There have been many times when I've wanted to post a rude comment, but have stopped myself. Apparently, I'm not alone, because the tiny house bloggers have started complaining.
Most of the rude comments are NOTHING like what I would say. They liken the tiny house builders to the sort of recluses who write manifestos. They complain about composting toilets or showering in confined quarters. They assume that the tiny house people want to outlaw all of the McMansions and force everyone to live in 200 square feet.
My complaints about the tiny house movement are more nebulous and, at times, feel more petty than those.
Tiny Houses Are Wasteful
The tiny house people brag continually about how their homes have been built by reclaimed materials. They love to talk about how they scrounged whatever wood they could find from demolition sites.
Want to know what would have been LESS wasteful?
They could have just bought a cheap and used fifth wheel that weighs just as much and needs just as big a truck to tow. I see used trailers in our local classifieds all the time that will eventually end up in the land fill. Instead of scrounging for wood, why don't they just buy a cheap fifth wheel?
Tiny Houses Are EXPENSIVE
I know they're touted as cheap to build, but a camper that is similar in size on the used market will ALWAYS beat it. Just today, I looked at my local classifieds and I found over 300 trailers (bumper pull and fifth wheels) that can sleep 6-8 people for under $5000.
No building required.
Sure, some of those campers are beat up, leaking and smell like a hundred deer have been gutted within them, but they are livable homes with toilets, showers and sleeping arrangements for a family. Additionally, it only takes persistence and patience to find the jewel of a trailer that is immaculate, fully functional and ready to inhabit.
Tiny Houses Aren't All That Easy To Tow
A lot of the bragging about tiny houses is the portability. Whenever you get sick of Portland, Seattle or San Francisco, you can just hook it up and haul it to a new place. You could even haul it to your own tiny spot of land in the desert that you found for sale on Craigslist.
The truth of the matter, however, is if you want to make your tiny house relocatable, you have to build it with more durability than salvaged materials can provide. Driving down the freeway with your tiny house in tow is like subjecting your home to hurricane force winds.
Additionally, it takes a massive pickup to safely haul a tiny house down the freeway. If you have to purchase a massive pickup, then you might as well just add the fifth wheel to the bed and haul a trailer. It's just plain safer to haul an aerodynamic fifth wheel trailer than a cabin on wheels.
Tiny House Builders Are Elitists
In the end, why DON'T tiny house builders just buy a used fifth wheel camper? It has efficient bath and kitchen facilities. It can sleep just as many people as a tiny house. It's well-insulated from the cold and just as portable as a wooden house on wheels. It's probably even LESS expensive.
I can't escape the feeling that the kind of people who build tiny houses are elitists. They act as if what they are doing is different than the folks who live in Winnebagos. It's like they believe that a little house that looks like Walden on a flatbed trailer is NOTHING like those trailer trash who live in fifth wheels at the trailer park.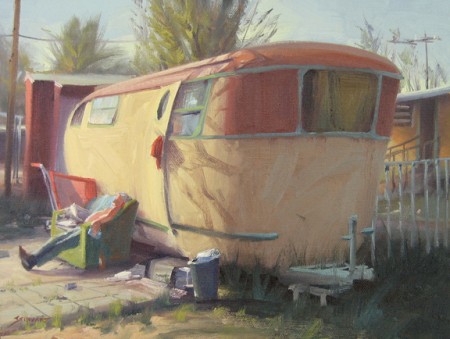 In the end, I feel insulted every time a tiny house builder brags about how cheaply they built their house or how very portable it is. I keep thinking that they could have just bought a fifth wheel for that price and then they wouldn't have to dump out a chamber pot every morning. They could have a proper black water tank that easily empties into sewer hookups.
Tiny houses are cute. That can't be denied. They can even be designed to work as efficiently as your typical camper, but almost EVERY time I see a video showing a builder bragging about his tiny house, I want to write rude comments on the post because they could have just bought a cheap camper and gotten all the features they are bragging about so meticulously.
Update 02-24-13
There is now a Utah-based company that is making tiny houses, called Open Trail Homes. You can see my review here:
The most humbling thing is that I feel completely different after seeing one in person.
As luxurious as a fifth wheel feels when I'm camping, it doesn't really feel like a HOME. Walking into the Open Trails Homes felt like I was walking into a REAL house. I could see that it was on wheels, but it felt like a cabin instead of a trailer. Just seeing their designs in person was enough to make me re-evaluate my entire stance on the tiny house movement.