I found this video on YouTube. It's a slideshow of photographs from The Ritz.
I was starting to get worried because there were no pictures of me, even though I had been there that night. I know this because there are pictures of a lip sync for Killing An Arab and I remember seeing that performance. It was when Dawni was in Chicago, nannying for a family and I had to go to The Ritz alone. Fortunately, I found a couple of photos of myself in the mix. At the 4:51 minute mark, you can see me.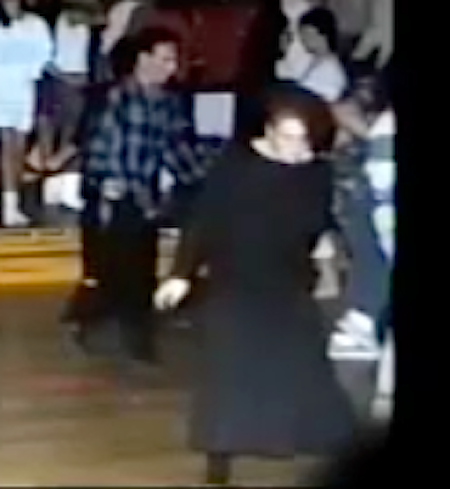 God, I loved that outfit! I wore that long, black skirt until it fell apart, then I mended the seams by hand and wore it for years after that. I used to love to wear it on windy days and feel the air play with the fabric around my legs. Why don't I have a long black skirt like that anymore?
I think this might also be me on the right, but I can't be sure. Here's a freeze frame from the 4:58 mark: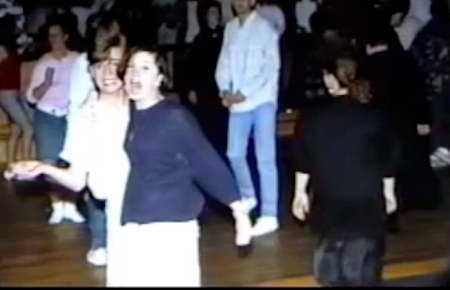 It looks like my hair and I had a black, denim skirt that I wore quite often at The Ritz (same sweater, if you notice), so I'm pretty sure it's me.
Of course, here is the missing piece in my love for the artwork of Syd Brak at the 6:08 minute mark. The walls of The Ritz were literally plastered with his work.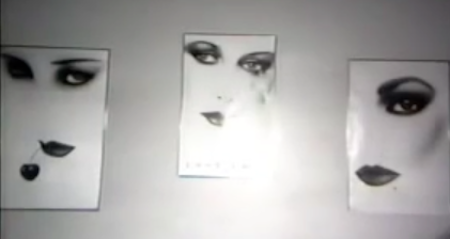 The posters on the left and right are ones that I do not currently own. I don't even know what they were named, so I feel as if I'm on a quest to find out their origins. They look like Syd Brak's work, so I'm assuming they are his, but who knows. He did have many imitators.
Watching that video was a lovely glimpse into my past. It was nice visiting, but I would never want to go back to that time of my life. Things are so much better now than when I was 19 years old.