I read this interaction on Feel Good Inc. Tumblr and I didn't believe it.
huesosmccoy:
why do people say "don't be a pussy" when talking about weakness more like "don't be a man's ego" because you know there isn't nothing more fragile than that
uhmwillowsomething:
because "pussy" is the shortened form of the word "pusillanimous", which means "timid, cowardly" and not the slang word for the female genital region?
velvetqueer:
literally no one else knows this. nobody.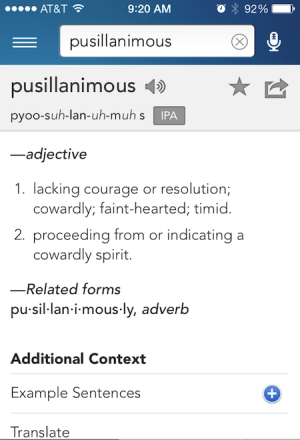 NOBODY, not even me! In fact, I didn't BELIEVE it. I had to look it up in the dictionary, but there it is!
Firstly, I'm not buying it. If they really meant a shortened version of pusillanimous, the phrase would have been, "Don't be pussy," since pusillanimous is an adjective.
This might have been the origin of the phrase, "Don't be a pussy," but it certainly isn't what it means NOW. Now, everyone assumes that it is referring to the female genital region, somehow calling girls weaker than boys. It's synonymous with, "Don't be a girl." It might have had a less vulgar origin, but it certainly has a vulgar connotation now.
I'm not going to go around saying, "Don't be a pussy," but I just might pull "pusillanimous" out of the twenty-five-cent-word bag when I'm trying to be pretentious. Thanks, Tumblr, for increasing my vocabulary!