"I know of a black lab puppy if you would like one." NakedJen was sitting across from the table from Mike and me at lunch this Friday. Mike surprised me with the answer, "A black lab is too big for us. We're looking for something smaller." I had no idea that we had been looking for a dog, but I suddenly realized that I was perfectly okay with the idea. I tried to recover. "You know, the other day, I saw a couple walking their dogs and I really missed having a dog. Not that I was able to walk Sid or anything, but seeing them made me wish I could have a dog that I could take on a walk."
We talked some more about Jack Russel Terriers and Australian Shepherds before the conversation turned to something different, but something had changed. Mike and I were looking for a dog. As of Friday afternoon, we started looking. We lost a lovely Australian Shepherd named Disco to a family with two kids, but I really think that was for the best because yesterday, we found Nina.
She's a Chihuahua/Dachshund mix, so she's bigger than a Chihuahua and much more calm. Here is her picture from the Humane Society: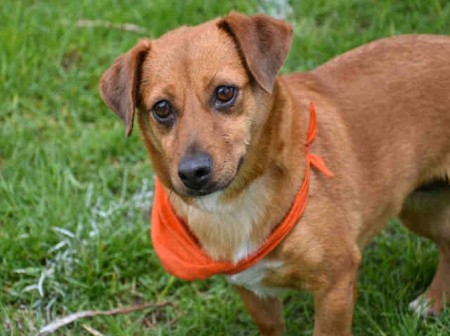 They also made a video of her to try to get her adopted:
I'm surprised that she had to come all the way from Los Angeles to find us. I imagine she was originally owned by a woman who enjoyed carrying her around the posh places in L.A. When she grew up, however, her Dachshund side made her a tad too big to carry around everywhere, so she was sent away for a different trendy pet. She wasn't treated badly, she just became too large for the flighty woman's purse.
Well, she's EXACTLY the right size for us. I took her for a walk this morning around Daybreak. She was good when we passed other dogs, joggers and bicycles.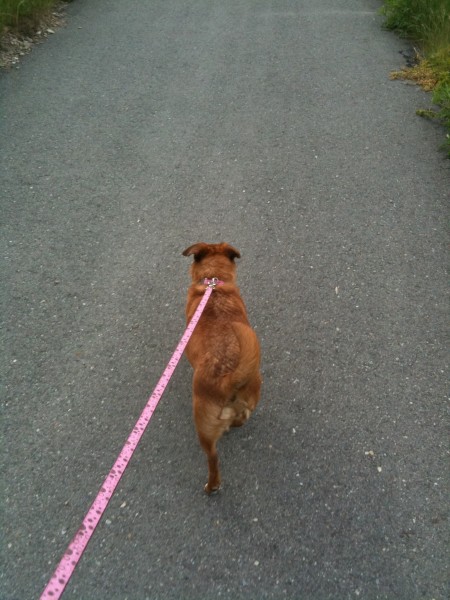 She's never been taught the basics like sit and stay, much less the litany of tricks we are planning on teaching her, but she does know come. Most importantly, she loves a treat, so we'll be able to teach her how to be a perfect dog for us.
Right now, she's passed out on the couch after her three mile walk with me. It's good to have a dog in the house again.
Update 06-20-11: Dr. Lynette verified that Nina is approximately four years old, so we're considering her birthday to be June 12, 2007. She also got a clean bill of health, so we are so happy we will be having her in our lives for a long time.