This is a pretty good video showing you how to do zombie makeup:
The only problem I have with it is I'm super allergic to latex, so if you are trying this, put a tiny bit of latex on a sensitive spot on your face, like a small drop under your eyes. Leave it there for about a half hour and see if you have a reaction. I did a test spot of liquid latex on my arm a couple of years ago with no reaction, but the minute I put it on my face, it started burning.
The most realistic wound that I've ever made was using gelatin and corn syrup back in 2003: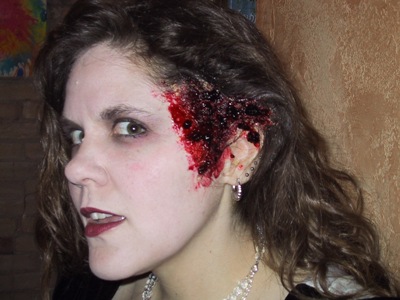 I can't believe it has been ten years since that photo was taken! I have been haunting for far too long!
Via: DIY Zombie Makeup: How to Make Hideous Wounds That Last for Hours | Underwire | Wired.com