Last year, I won a prize for Scariest Costume for my Raiders of the Lost Ark Melting Nazi Costume.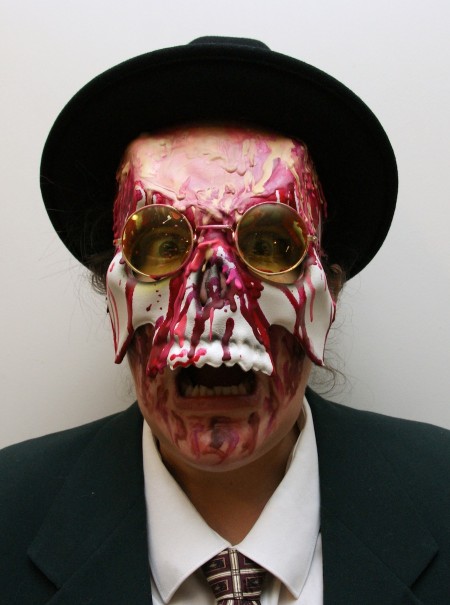 After the break is a tutorial for how I made the mask…
I bought a simple skull mask for ten dollars at a store like Wal-Mart or Target.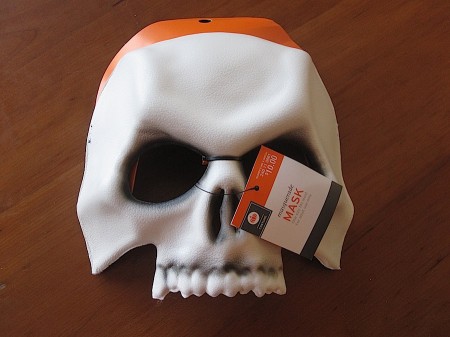 I also found a pair of glasses in my costume box. They happened to be one of the MANY pairs of glasses I wore for the Dowager Moncur steampunk costume back in 2009. I stapled them to the mask with two staples on each side because I didn't want to worry about trying to keep the glasses on the mask all night. I forgot to take a picture of that step before I melted the crayons over the top of the mask, but here is a closeup of where one of the sides is attached to the mask.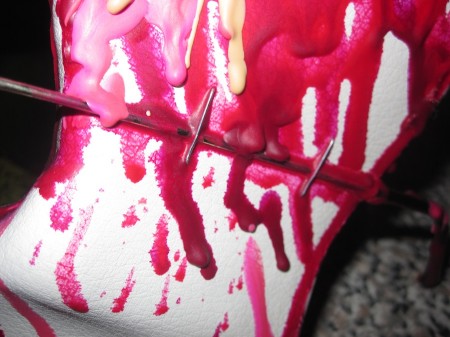 The next step is to melt the crayons over the top of the mask. Using a hair dryer, I started with two crayons with a dark red maroon color. I let that cool and then melted two pink crayons over the top of that. Finally, I melted a color that matched my flesh tone (peach) over the top of the other two colors. It took a total of five crayons for this level of meltiness.
It was kind of difficult to make the wax melt without completely melting down EVERYTHING on the forehead, so you'll have to be gentle with the hairdryer.
The finished product, however was totally worth all that effort and MESS. Make sure you cover all the work surfaces with newspaper so you don't have melted crayon permanently attached to everything. Oh, and make sure you wear ugly clothes that you don't care about, because that melted crayon WILL stain.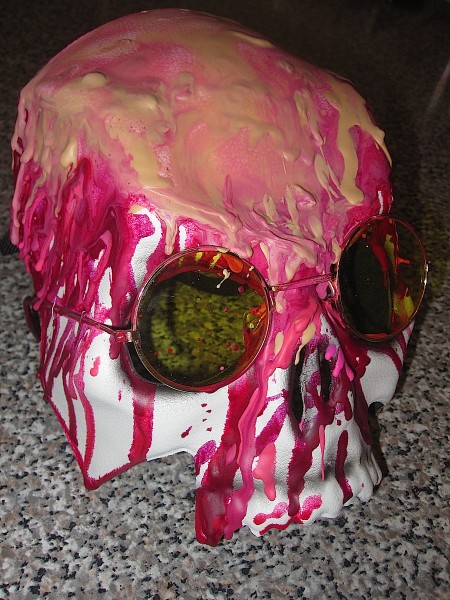 This was NOT a pleasant process. Here is a picture that Sean took of me while I was making the mask. It's obvious I was not a happy camper.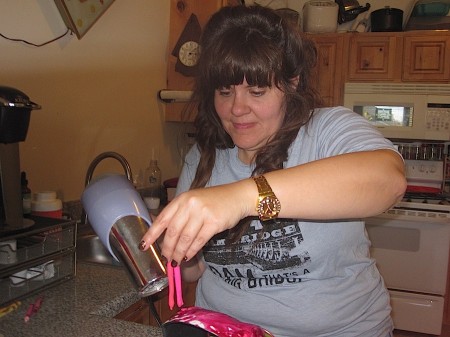 Apparently, some people have had success with putting crayons in their glue guns. That might have worked better for me. Here's a video showing how to do it, although the end result is a little more droplets and less running for my taste.
I wasn't particularly pleased with my makeup job on my face. All I did was make drips with CoverGirl long lasting lipstick in three different colors. If I were to do it again, I would do a test run with the makeup and try to do something a little more 3D and dramatic, like I did for my Homecoming Queen's Gotta Gun costume from 2003.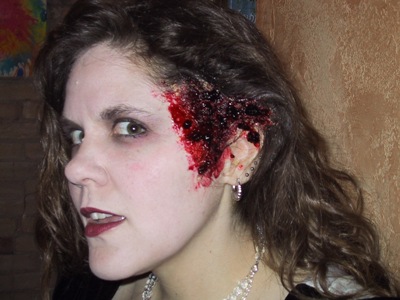 For the costume, I just wore the same coat jacket that Mike has worn for a costume for FOUR years:
Dr. Jekyll and Mr. Hyde 2011:
Sixties Mad Man 2010:
Steampunk Guy 2009:
The Mad Hatter 2006:
It's amazing how versatile a simple green coat can be.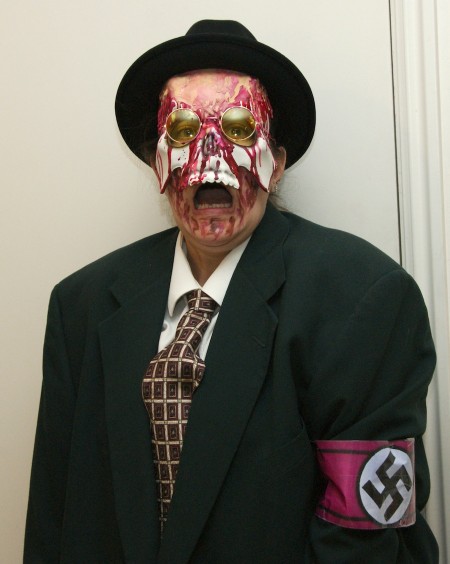 For the hat, I wore Mike's fedora from the Sixties Mad Man costume from back in 2010. You need to make sure that the hat you have is MUCH bigger than your head because it will have to fit over the mask to look realistic. Fortunately, Mike has a humungous head, so the fedora worked perfectly.
For the armband, I printed up these two images large enough to fit on an 8 1/2″ X 11″ paper. I taped them together and safety pinned them to the coat.
I was reluctant to wear the swastika at all, but I was worried that no one would know what I was without it. Even with the swatiska, I was worried that no one would know what I was, but the few people who didn't weren't a problem. It's one of the few times where I haven't been inundated with "So, what's this costume?" They knew EXACTLY what I was and having Mike there in his Indiana Jones costume just made it perfect.
If you want a dramatic costume that is sure to win a prize, you can't go wrong with the Raiders of the Lost Ark Melting Nazi costume.