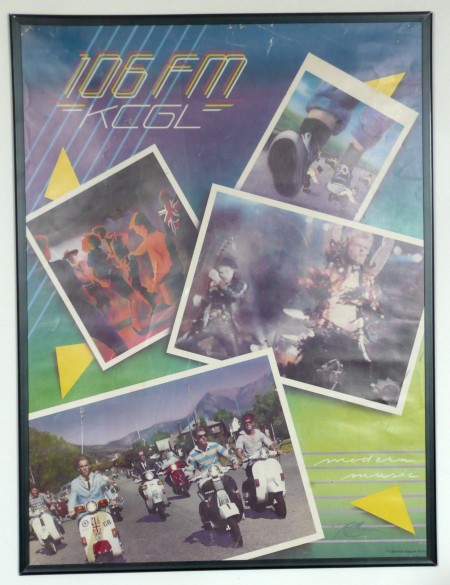 When KCGL went out of business, all of us punk kids cried. We had been informed that they were changing their format to Christian Rock. We protested. We went to the radio station, begging them to reconsider. I don't remember calling any of the advertisers, which would have been the smartest thing to do. When you're seventeen, the financial side of radio is the last thing on your mind.
Nothing that we could do could stop KCGL from changing their format. It wouldn't have been that big of a difference except that there were no other alternative or new wave stations on the radio at that time. Suddenly, we went from 24 hours a day down to one or two hours a week on public radio. After a couple of months, I was desperate for new music. MTV was good, but it wasn't the same as the radio.
I remember haunting KCGL. I kept listening in the vain hope that they would change their minds. Maybe if they didn't make any money with this Christian Rock stuff, they would eat crow. Once I heard them play U2. I thought that they were changing back and immediately called them. No, U2 is considered Christian, apparently.
I knew things were really bad when I saw the movie Pretty In Pink. I heard new Smiths, New Order and Nik Kershaw. It was a whole soundtrack of new music that I hadn't heard before, except for the title track. After that, I started asking all my friends, "Have you heard anything good lately? What do you recommend?"
I bought more albums during that time than I had the previous year. I was still making the same amount of money at K-Mart, but I was spending more of it on music because the radio was gone. All I had were audio cassettes to rely on after KCGL died. I would buy albums just because one person said that they thought it was good. I didn't weigh my options anymore. I just bought it all because I was so hungry.
Then it happened. "Have you heard anything good lately? What do you recommend?" I was asking Pinkston. Unstable Mike Pinkston. Beautiful Mike Pinkston. He had just returned from picking pineapples in Hawaii and his forearms were bronze and bulky. I had been crushing on him since sixth grade. I'm sure he knew it, but he didn't want me. Just like every other crush I had encountered up to that point. "Here, try this. You'll probably hate it." He handed me Japanese Whispers by The Cure.
---
Update 10-01-11: If you're missing KCGL, you can relive the best of it on KCQN Utah, brought to you by Chet Tapp and Mister West!