Last night, I finished Someone Comes To Town, Someone Leaves Town by Cory Doctorow and I am reluctant to recommend it. At the same time, I want to find someone who has had the misfortune of reading it and talk to them about it. This book is labeled a "Sci-Fi Essential," but I would consider it fantasy. There are golems. There are girls with wings. Mountains and washing machines give birth to sons.
There is also a dual plotline about Internet connectivity. The main character juggles a deadly-dead brother (a full time job of its own) and sells the idea of flooding his small Canadian town with free Wireless Internet using dumpster computer parts. Both plotlines intersect, but it really feels like the main character, Alan (Abe, Anton, Adam, whatever), is living two lives: the real life and the fantasy life. That's the nature of his character, though. He came from the fantasy world and is desperately trying to live in the real world.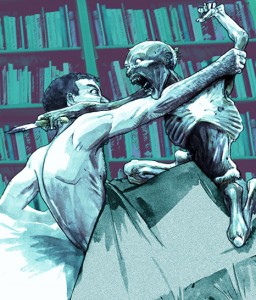 Cory Doctorow has created one of the scariest villians I've seen in a long time with the dead brother, Davey (Danny, Drummond, Darrell, whatever). A demon from the day he was born, Davey tortured one brother's animals with vivisection and moved up to murder before he was out of grade school. Yet, he knows the secrets. He is the one of the brothers who can answer the question, "What are we?" I wanted him dissected, burned, scattered and tilled into the ground, but I wanted him to answer the question before it happened.
I just had the feeling that if I had read more fantasy books, I would have understood the relationship of the golems to the mountain. I would have understood the significance of being a son of the mountain. I would have understood the proper etiquette in this strange fantasy world. Instead, I'm still groping with the question of "What are they?" because it was unanswered by the end of the book.
You can purchase this book at Amazon or download it for free at Cory's site. He has released under the Creative Commons Copyright, so downloading it is perfectly legal.