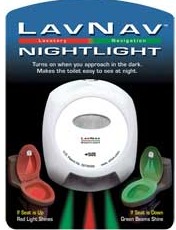 From Boing Boing: "The Arkon LavNav is a nightlight that clips onto your toilet seat. It senses your approach in the night and glows gently (no blinding 100w bulb at 2AM) — green if the seat is down and red if the seat is up."
I'm a little clumsy in the middle of the night. Can you just imagine how the toilet would look when the light fell off the lid and into the toilet? I can't flush it. I'd have to reach in and get it. Yeah, I think I'll leave this one to the early adopters and risk sitting on the toilet without the seat.
Arkon's website seems to have a multitude of choices in gadgetry. Motion activated soap dispensers that would spew soap on my cats when they walked by. Personal air purifyers that would blow that strangely smelling ionized air at me. PDA mounts that would allow me to see what songs are playing on my Tungsten while I'm driving (ok, those look really cool).