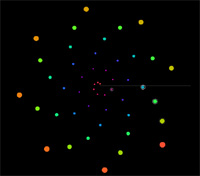 I am strangely happy with these musical balls. I love the Chromatic Prime Numbers Only variation.
The explanation for it is here:
This is one of those situations where it seems that someone has thought a lot more about an author's work than the author himself. John Whitney was an experimental filmmaker, but Jim has taken John's experiments one step further by making the visual harmonics affiliated with musical notes. He has created something entirely new.
Via: Rocketboom